How much does it cost to create a website? It is the question that many people ask. There are many factors to consider when designing or developing a website, but there are some standard fees for websites. The prices of one-page websites are practically free if you do it yourself or start from €500, going through €3000 and even reaching five figures, depending on the type of project. The needs you have, the size of your project, the platform you use to do it, and if you do it yourself, hire a freelance web designer or a web design agency.
What Influences the Price of Developing a Website?
The main factors that influence the cost of creating a website are:
The number of pages of a website: the more pages you have, the more cost web development will have.
The type of page and the size of the project: if it is a business, a blog, a professional website, a website with specific functionalities, the redesign of a page, or a web design from scratch.
The type of platform: if a website is made in WordPress, Wix, or another CMS or if it is a custom web development.
The functionalities that the website requires: email marketing integrations, payment gateway, plugins, and other specific needs of your business.
If the writing of specific content is required, articles for the web, etc.
If you are going to Cost to create a Website yourself with free tools, or you will hire a web developer or an agency.
What Type of Website Do I Need?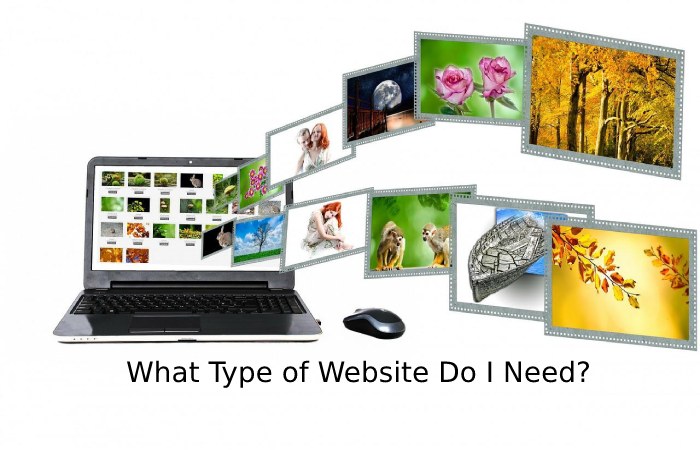 In the digital age in which we live, a website is like a virtual shop window. You can show potential customers your letter of introduction. The services or products you offer and convey that you are an established company.
Unlike a local one, if you work well with SEO and your website's online visibility, it allows you to reach a larger market of potential clients. Who are not only in your local area but also nationally and even internationally.
There are different types of web pages, and depending on the needs of your business, you may need one or the other. The most common types are:
A Website With a Single Page (or Landing Page)
It is an introductory website where you can introduce your company and services. This site is very cheap to develop and is usually create with free tools like Wix, Weebly or Google Sites.
A Multi-Page Website (or For Small Businesses)
It is a relatively simple website with more than one presentation page about who you are, services, and prices. They are usually create on platforms like WordPress or Squarespace. The development cost of these sites varies a lot depending on whether you have a blog. The content you have to develop, the number of pages, and the plugins.
An Online Store
It is e-commerce where you can show photos of your products and accept online payment. This site can be developed through platforms that do not require any specialists, such as Shopify, Wix, and Zyro. Which are usually very easy to use and cheap if you do not need a lot of functionality.
If more complex work is required, the development of this type of site requires a specialist or a custom design if a brutal front end is required.
How Much does a WebsiteCost Per Month?
Apart from the factors mentioned and web development, you have to consider the monthly costs that influence the expenses of a website. It can range between 30 and 50 euros per month for hosting and email services to get a rough idea.
However, this does not include the cost of building or maintaining the website. If you are going to hire a web maintenance service, the monthly fee for a basic plan can start from 100 euros in Spain. In other countries, it could vary.
Below we will develop in detail the costs that influence the price of the website per month. Among them is the web hosting providers, which can vary a lot in the type of plan you choose, the loading speed. And the database you need for your website. But to give you a rough idea, some hosting plans for Shared web hosting start from 1 to 6 euros per month.
Options to Create My Website and How Much do they Cost?
There are three main ways to create a website: do it yourself with WordPress or other website builders. Hire an agency or freelance designer to custom design, or use other web tools.
Each option has its advantages and disadvantages, so it remains essential to know them before making a decision.
Story Cost to Create a Web Page Yourself
It's practically free if you do it yourself, you can create your website using platforms like WordPress. Or Wix for a simple corporate website or Shopify for an online store. You do not need technical knowledge, and also, you will only have to dedicate your time and the monthly price of using a CMS or external software, premium template, etc.
Website With a Design Agency
The price of a web page design is not low, but it can be worth it if you do not have the time and budget to do it.
The cost of a web design using WordPress can range from 1,000 euros, and also, if it is custom development. It starts at around 6,000 euros and also, easily exceeds 50,000 euros. The price of a website rises depending on the complexity and the project characteristics.
Website Cost by Hiring A Freelance Web Designer
An intermediate option is to use different specialists that can fit your budget. For example, you might need a specialist in SEO, web development and design, and digital marketing for a complete website project, among other freelancers.
You may not need the entire staff at first, so it will give you flexibility and save costs by contracting services as you need them.
To create your first initial site, you would need a specialist. They usually work by hiring them directly, usually by the hour, although they can also do it by the project.
To get an idea of ​​the prices on portals like Fiverr or 99designs to create a simple website, you can start at approximately 300 euros.
Conclusion
Cost to create a Website can be expensive, but there are plenty of options to fit any budget. For example, you can hire agencies or freelance designers or do it yourself for free. However, it is crucial to know the objective of your project, the functionalities you need, and the budget; you have to decide on the best way to create your page. And understand better what the costs of the work will be before starting.
Also Read: What is Forex, and How does it Work?
Related posts