Artificial Intelligence in Food and Beverages Market segment through Application (Food Classification, Consumer Engagement, and Quality Control), End User (Hotels and Restaurants, Food Industry, and Other End Users), and Geography.
Challenges for F&B
Agribusiness companies are constantly confront with changing global trends. First, you must maintain regulatory compliance related to food safety processes, which has become a priority for businesses today. Additionally, managing manufacturing lines and equipment and reducing waste in the supply chain is another challenge for food and beverage companies. In addition, inventory control, food quality assurance, and other particularly cost-oriented services. A combination of these challenges can lead to significant financial setbacks and damage to brand reputation.
AI in the food industry presents a huge opportunity. Here are some of the fantastic ways AI can transform the F&B industry:
Predict the Sales Cycle
Food and beverage companies have many customers, and also, maintaining a committed relationship with them is a challenge. Artificial intelligence can play an important role here as it can help food manufacturers, retailers, and restaurants get to know their customers better.
Applying artificial intelligence to the food industry can keep tabs on your customers, their tastes, and their choices. Which are important metrics for predicting sales. For example, a retailer with repeat purchases can better understand how to identify their best customer and therefore stock up on inventory. Artificial intelligence takes your historical data, processes it with AI-enabled algorithms. And provides you with results that can predict the sales cycle over a given period.
Meet the Customers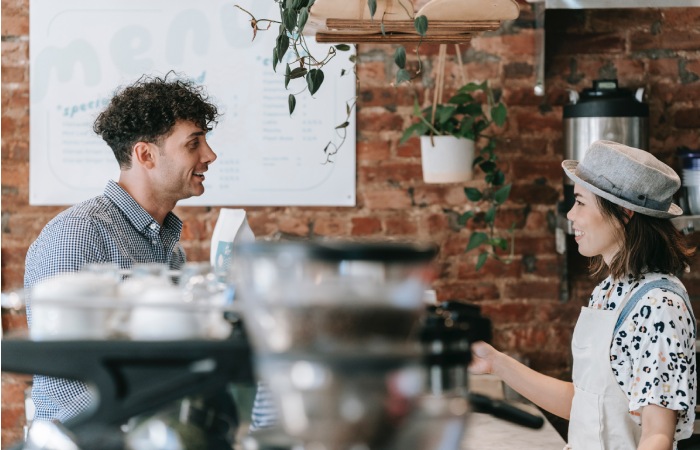 AI can predict your customers' tastes and buying patterns. How it works: AI monitors your customers' emotions on social media and uses natural language processing and data analytics to analyze your customers' activities and categorize them into positive, negative, or neutral responses.
Even many catering companies use AI techniques as content moderators to analyze the emotions of their customers. These techniques can create new recipes and also, food products that will better satisfy your customers' taste buds. Moreover, such analysis can also give you more detailed information on how and when you should promote these products.
Supply Chain Improvement
Supply chain management remains a constant struggle for food companies. With increasing food safety regulations, full transparency is a need in the supply chain management of F&B businesses. As a result, there is a vast need for data-driven supply chain tracking, and this is where AI can help by providing new supply chain insights to stay on top.
Market Overview
Artificial Intelligence in Food & Beverage Market was valued at US$3.07 billion in 2020 and is a project to reach US$29.94 billion by 2026, with a CAGR of over 45.77% over the forecast period (2021-2026). Changing consumer demand for fast, affordable, and also, accessible food options has fueled a transformation in the food and beverage industry. As a result, market leaders use advanced technologies such as artificial intelligence and machine learning to scale their operations and help business break relevant in a dynamic marketplace.
Benefits of AI in Business
AI has been actively gaining traction in recent years, with many companies actively investing in exploring the technology's potential in the industry. For example, this emerging artificial intelligence technology is helping food and beverage companies manage their supply chain through logistics, predictive analytics, and transparency.
Businesses are rapidly digitizing their supply chain to differentiate themselves and also, drive revenue growth and improve efficiencies across the supply chain. Supply chains generate vast amounts of data. Where AI helps the company analyze this data and better understand supply chain variables by anticipating future scenarios.
AI in source chains helps companies innovate quickly through reducing time to market. And also,  building an agile supply chain that can anticipate and manage uncertainty. It is energetic the growth of AI in the food and beverage industry.
AI brings many benefits to the food and beverage industry. But the high cost of large-scale implementation in this sector limits the market growth. One of the food industry's challenges is its raw material, which can rarely be homogeneous. We see that food storage is done with the help of labor. But with AI, this sorting procedure can be automate, ultimately reducing labor costs, increasing speed, and improving yields.
For example, Kewpie Corporation, a Japanese food treating company, uses TensorFlow AI-enabled machine learning that can detect anomalies in food. According to the company, they plan to upsurge their use of AI in the future. Which will help them maintain a strict security standard.
Also Read: Tips to Generate More Leads with Customer Testimonials
Related posts