Vaccine Certificate South Africa – The Republic of South Africa has launched the digital COVID-19 vaccine certificate application. According to News 24, the COVID-19 Vaccine Certificate System, which includes digital certificates with QR codes. And has been open to online access.
President Cyril Ramaphosa announced last week that South Africans would be transitioning to a standard digital vaccination system to facilitate their travel and access to social activities.
The number of people vaccinated in South Africa exceeded 18 million.
According to the Ministry of Health data, with the vaccination of 184 thousand 374 people in the last 24 hours. The number of people who received no less than one dose of the COVID-19 vaccine increased to 18 million 73 thousand 784.
In South Africa, which ranks second after Morocco in the list of countries that apply the most vaccines in the African continent, approximately 9.2 million people have vaccines so far. According to ministry data, the number of cases increased to 2 million 906 thousand 851, with 429 people contracting COVID-19 in the last 24 hours.
Due to the epidemic, 39 people died in the last 24 hours, and the number of deaths reached 87 thousand 819.
Steps to get your Covid-19 vaccine certificate
With the increasing conversation about making Covid-19 vaccination mandatory in South Africa, you may want to have your vaccine certificate ready. But, if you are undocumented, the method might be near impossible. One possible obstacle for those with identity documents might be that you improper your vaccination code, but this is easily correctable.
Downloading your vaccine certificate could take less than two minutes. If you are vaccinated (fully or else partially) and have a vaccination code. Think of having a valid South African ID, foreign passport, or asylum/refugee number. You can quickly get one if you delete or lose your code in the flurry of SMSs sent during vaccination.
Early in October, the South African government's health department stated that residents could use a digital platform to request a Covid-19 immunization certificate.
Those who had received a second dose of the two-dose Pfizer vaccine, or perhaps a potential booster shot in the future. They were required to update their current certificate with the new information. According to national vaccination roll-out coordinator Nicholas Crisp at the time.
Five-Step Guide For A Vaccine Certificate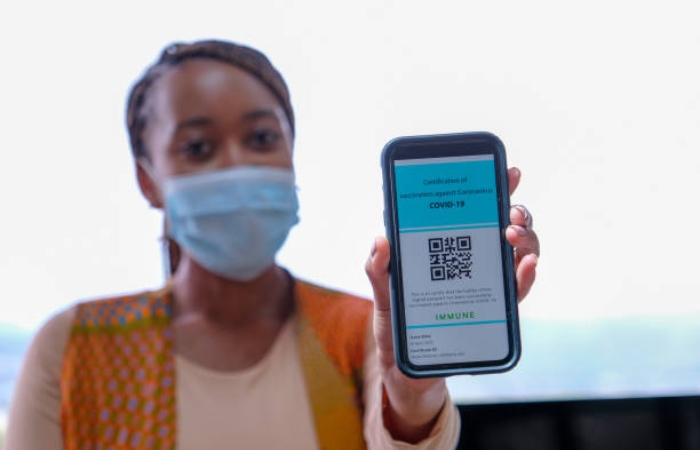 Here's a step-by-step guide to downloading a vaccine certificate through the South African Covid-19 Vaccine Certificate System.
Visit the department of health's vaccine portal at https://vaccine.certificate.health.gov.za/
On the site, select the first bar reading "Get my vaccine certificate". And then follow the easy steps that include your name, surname, identification number, foreign passport number or asylum number and your vaccination code SMSed to you.
Click to prove you are not a robot and choose "next".
Confirm your cell phone number. And also, Make sure it is a number that can receive an SMS because a one-time password will send to it.
Once you have provided the one-time password, you can download your certificate.
When you have downloaded the certificate, you will stay advised by the department once an update to your certificate version is accessible. The QR Code is not working by the general public and is used to verify your certificate's validity using a vaccine certificate system inbuilt QR scanner.
Only people who received their Covid-19 vaccine in South Africa can access the vaccination certificate.
Vaccination Certificate For all Undocumented People In South Africa
According to media relations officer Foster Mohale. The health department is "busy leading a system" enabling undocumented residents of South Africa to receive vaccinations and a certificate.
Because undocumented individuals cannot receive vaccinations at all locations, he continued, it was "tough".  Additionally, there are just three centers that can help these individuals.
People without identification credentials can receive vaccinations on Tuesdays at the Hillbrow Clinic in Johannesburg. According to Kwara Kekana, a spokesperson for Gauteng Health.
When asked how vaccination certificates were then given, Kekana replied that she was unsure and added that it was a national government issue. Since Gauteng would not have been the only place it occurred.
According to the Western Cape Marika Champion, head of health communication, immunizations are given to undocumented immigrants in Cape Town via a paper method. Although the province lacks a specific location for such immunizations, the department collaborates closely with homeless shelters.
More Information: Vaccine Certificate South Africa
Asked about how undocumented people can get a vaccination certificate, Champion said, "it is a problem" that requires a more long-term solution. Obtaining a vaccination in KwaZulu-Natal, let alone a vaccination certificate, can be even more difficult.
Agiza Hlongwane, a spokesperson for the province's health department, claimed that foreigners, particularly those who are illegal, are reluctant to come forward for fear of retaliation.
To prevent confusion and inconvenience for international travellers at the ports of entry. The South African government has proclaimed that it will accept all verifiable vaccination proofs. And after some passengers presented Covid-19 vaccine certificates not defined in the current system of health regulations.
Rules and Regulations: Vaccine Certificate South Africa
The government has acted swiftly to clear the confusion over Covid-19 vaccination documents provided by international travellers. Some of them reportedly had to undergo Covid testing. And also, possible quarantine on arrival despite having valid certificates from their countries of origin.
"The South African Government has noted the recent incidents at some ports of entry involving international travellers who presented proof of vaccination. Which not defines in the current regime of health regulations," South Africa's Government Communication and Information Services (GCIS) said in a statement on Friday.
It said the proofs of vaccination provided by international travellers were verifiable in terms of current regulations. But this had complicated by different methods used by various authorities abroad.
"Because there is no globally agreed template of proof of vaccination. It has come to our attention that some countries use vaccination cards with a QR Code. While others use certificates with a QR Code as proof of vaccination," the statement said.
Details of Vaccine Certificate South Africa
Thus, to ensure a smooth and fair verification process without inconveniencing the travellers at the ports of entry. The government also reserves the right to contact the relevant embassy or High Commission in South Africa. To confirm a type of proof of vaccination issued by the respective countries if the vaccination certificate or card is not verifiable.
"Travellers reminded that onsite Covid-19 testing services are available at the ports of entry for individuals who are unable to present proof of vaccination. And those who test positive and are experiencing symptoms, will remain required to self-isolate," the statement said.
South Africa registered 3,274 new Covid-19 cases in the past 24 hours, reducing infections to 3,948,119. Unfortunately, there were 36 further deaths also, bringing the number of total deaths to 101,128.
Helpful Resources:
How to Convert 0.02 ETH to USD (Ethereum to Dollar)?
What is a Startup Exit Strategy? – Important, Types, and More
Related Searches:
covid-19 vaccination certificate download pdf
download covid vaccine certificate
covid vaccination certificate online
download vaccine certificate
how to get qr code for vaccination certificate
vaccination certificate application
vaccination code
covid-19 vaccine code number
Related posts